What is Desperados and why it is our partner?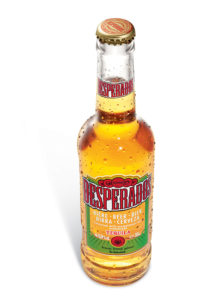 More than 20 years ago Desperados rewrote the rules. A refreshing and wild beer with Tequila was born. Desperados is a unique combination of lightly sparkling lager with tequila and fruity flavor. Also tastes for those who do not drink beer. It is a drink for those who want to enjoy life to the fullest and have the courage to try new and unknown things. It was launched in the typical embossed bottle in France in 1995, now it is starting a party all over the world. The wilder the better.
Desperados celebrates a creative spirit and encourages everyone to move the world forward creatively – to push the boundaries of everything that surrounds us to the next level. When was the last time you pushed some boundaries?
Desperados – beer enhanced with tequila brings open Czech championship in extreme jumps in wildlife, known in the world as cliffdiving. And this was the way last year – Desperados HIGHJUMP, will you join us this year?
---
---